This snippet has been taken from "Paint Your Home Skills, Techniques, and Tricks of the Trade For Professional Looking Interior Painting Reader's Digest The Reader's Digest Association, Inc. Pleasant ville, New York/ Montreal". Bathroom painting faces a lot of wear and tear, so one should go with a water-repellent, easy-to-maintain product which is well described at "House Painters in Washington DC".
Preparing Bathrooms
Unlike other rooms in the house, bathrooms rarely have movable furniture, and most pieces will have to be protected as directed below. Any furniture that can be moved should be removed and stored elsewhere until the job is completed.
Scrape loose paint and make any repairs to walls and woodwork as necessary. If mildew is present, remove it with a solution of one part chlorine bleach to three parts water.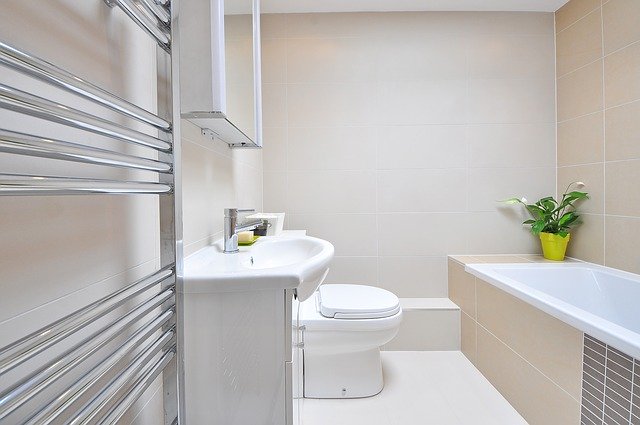 Painting Bathrooms
High-sheen paint will make the bathroom easier to clean. Also consider using one of the paints that are formulated to withstand the high levels of moisture found in every bathroom.
Choosing Painted or Tiled Surfaces
Ceramic tiles that can be easily washed may seem like a good solution for bathrooms (and many kitchens). However, bathrooms, even more so than kitchens, tend to have recesses, ledges, and pipes that cannot be tiled. It is best to paint these areas, especially as there are now paints on the market that are formulated to cope with high-moisture conditions.
Maintaining the Paint Job
Keeps your paint job looking like new by ensuring proper ventilation in the room? If necessary, wipe down walls with a dry cloth or towel to remove condensation.
Regularly clean soap scum off the walls with a bathroom cleaner.
Protect Parts of the Bathroom That Won't Be Painted
Cover any unpainted areas of the bathroom, such as the toilet and the vanity mirror, with a drop cloth. Tape plastic sheets over tile walls. Use drop cloths on floors. Protect the tub by taping the drop cloth over it.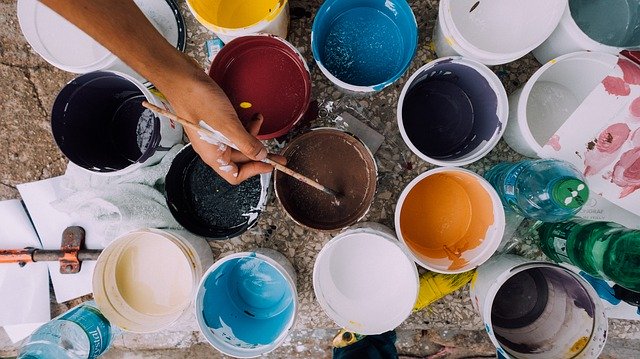 Dealing with Water Damage
Water damage in bathrooms can be caused by leaky pipes, splatter from showers and tubs, and condensation on the walls. To avoid future damage, correct the source of the problem before beginning to paint Deal with water spots by coating them with a primer containing shellac.
Protecting Bathroom Fixtures
Cover the faucets
Keep paint drips and splatters off faucets and spouts by constructing newspaper hoods. First, fold a sheet of paper to form a semicircle and then attach it to the wall with painter's tape.
Protect the light fixtures
Remove the globe and bulbs. Apply painter's tape around the edges of the fixture. For extra light while you are working, keep light bulbs in place on the opposite wall.
Painting Bathrooms
Painting around the medicine cabinet
Having masked the edges with painter's tape, use a 2-inch brush to apply the paint. Paint around the medicine cabinet in the same way that you would paint around a window. Keep a clean cloth handy to wipe up any paint splatters that land on the cabinet.
Painting around a light fixture
Use a 2-inch brush to paint around a light fixture. If you kept the bulbs in place and lights on when painting other parts of the room, remove the bulbs now. If you keep them in place, their glare will prevent you from seeing what you are painting clearly.
Wipe up spills immediately. If you miss any, let the spill dry completely and then rub it off with a nonabrasive scouring pad.
Professional Tip
When painting the walls of a small bathroom, save time on each wall by cutting in along the ceiling and around medicine cabinets, windows, and doors all at once.  Since each wall will cover such a small area, you should be able to avoid lap marks by painting the walls before the borders dry.
Continue reading on Choosing Exterior paint color