Deck & Fence Painting - How to Paint and Treat Deck & Fence?
Improving your curb appeal before putting your property on the market is advisable. And that may include painting the deck & fence, literally. But even if you're not planning to move anytime soon, good-looking fencing and woodwork will enhance your garden.  
Take a look at the best paints (or treatments) for the job!  
Latex fence paint protects fences from damp
Consider anti-slip paint for the decking
Preserve your garage door with galvanized metal paint
Preserving your deck is not just about keeping it looking great. It's about protecting your investment, and there's a couple of different ways to do it.  
Whether you've got a brand-new deck or want to give your old deck a facelift, you might get confused about whether to paint or stain your deck. Both options can look amazing and protect your investment. But there are some essential things you want to consider.  
Using a sealant protects the wood from moisture and mildew but doesn't help with sun damage over time, so this is best for decks covered or protected from the sun.  
Transparent and semi-transparent stains provide UV protection and slow down fading splintering and cracking, which is an excellent choice if you want the natural wood grain to show through.  
Semi-solid coatings go on almost like paint and offer the most UV and moisture protection, but there are some drawbacks, like the risk of peeling and more visible wear and tear. So this is best for vertical posts or more minor traffic areas of your deck.
If your deck is made from new pressure-treated lumber, plan on waiting anywhere from two to six months before applying any products. Waiting gives the wood plenty of time to dry out. The drier the wood, the more effective it will soak up, which also means stain and sealant will penetrate deeper into the woods so that a stunning finish will last longer.  
Water or Oil-Based Stain?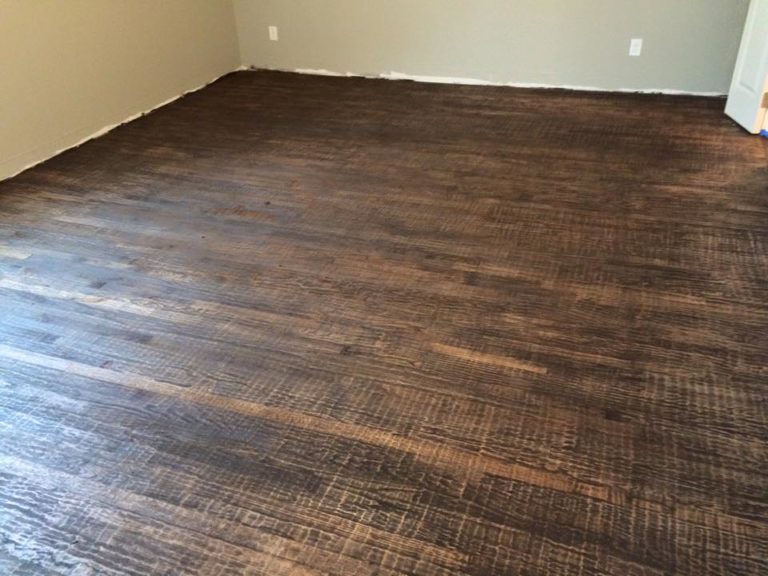 When it comes to selecting your sealant and or stain, remember you get what you pay for. High-quality, long-lasting products contain better resins and pigments. Stain sealant combo products save you time and money lots of people want to know whether to go with water or oil-based stain. It used to be that most experts said oil was best based on how well it absorbed into the wood, but oil takes longer to dry. It's harder to clean up and can attract algae or mold.  
For the best way to apply stain,  
A roller for a nice even finish. Ideally, it's also a two-person job; one person applies it while the other comes behind to brush the product into the wood.
Go with even coats allowing each one to soak in before moving on to another thoroughly.
Avoid staining in the direct midday sun; you want the stain to soak into the wood, not evaporate from the heat.
Technically your stain will probably dry within a few hours but be patient and give it at least 24 hours before walking around on the deck or moving furniture around.
How often should you stain your deck?
Reseal your deck once a year, especially if it's exposed to harsh sunlight daily, and plan on staining every few years because even the best products eventually fade. The good news is after several years, and you'll have to stainless frequently as the wood will be well-weathered and drinking any product you put on. So take your time to apply a high-quality product the right way, and you'll likely enjoy that beautiful brand-new deck for many years to come.  
Pros & cons of painting your deck!  
A considerable benefit of paint is that you can use almost any color you want and because it will completely cover older stains or the wood itself, you have a ton of options. In addition, the paint will help protect your deck and keep it looking new by filling in gaps and cracks in the wood. It also resists rot, mold, and sun damage better than most other finishes. It can also be much easier to clean than different finishes. If you have good quality paint, dirt should wash off pretty quickly.  
Now paint does come with some drawbacks that you should know about paint is forever. Once you decide to paint your deck, there's no going back to a stain or other finish down the road, and while having a ton of colors to choose from can be great, that could mean more chances you'll be sorry with whichever color you desire. If a neon pink deck looks good in your head, it looks terrible in your yard; repainting will be a headache. Sometimes less choice is more effortless.  
A painted deck can also be slippery, or when wet, so you want to be careful if you have to step out into the rain. Lastly, the paint will hide the natural beauty of the wood grain. So make sure you know what you'll be losing before you start painting.  
Pros & Cons of Staining Your Deck! 
If you decide paint isn't for you, you'll probably look at either a semi-transparent stain or a clear sealer for your deck. Stain is a pretty broad category so let's look over the broad strokes of what you can expect.  
The stain will retain the natural beauty of the wood, letting the grain show through. As a result, it's easier to apply the paint and can be more forgiving if you miss a spot here or there. It also comes in different colors, but the color of your particular wood will significantly affect the finished color of the stain.  
The drawbacks stain has a shorter lifespan than paint, so it will need to be done more often. It also doesn't fill in cracks or gaps in the wood, meaning any blemishes will still be there after the job is done.  
In the end, both paint and stain will help your deck last years longer than it would without a finish. They help keep it water and protect the wood from harmful UV rays. Less water and some damage mean a way nicer deck for your yard.  
How to Paint a Wooden Fence?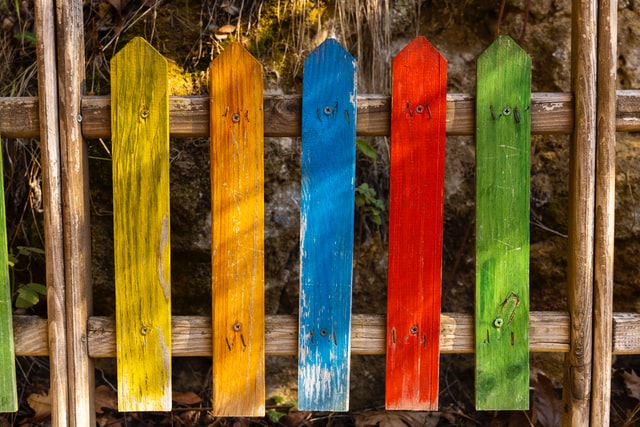 Wooden fences can be exposed to the elements, so it's essential to keep them in good condition, and here's what you'll need to do the job;  
Paint sprayer  
Sense paint
Wire brush
Facemask
Disposable gloves
Dust sheet
Masking tape
Wear a suitable facemask when sanding to avoid the inhalation of dust. Clean the fence to remove dirt, dust, and debris. Remove any dirt moss fungal growth and lightens with a stiff bristle brush. Layer dust sheet onto the area you'd be working at to avoid paint splattering on the ground. Avoid any areas you don't want to be painted, for example, fence posts or plinths.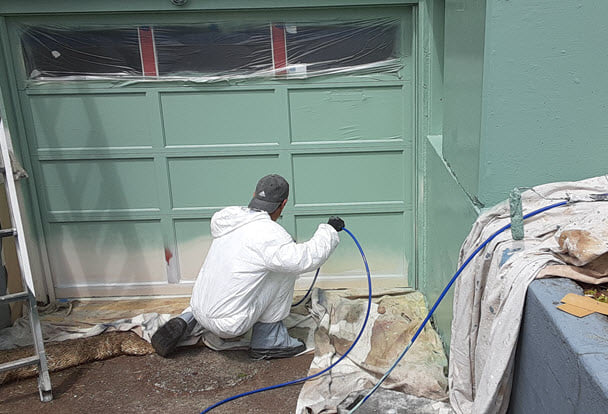 Sprayer painting method  
If you're going to use a paintbrush, the best method is to start on the top edge then paint on any verticals. Make sure to paint at the edges and then take one panel at a time, painting from the top down to the bottom.
Before you start to do any painting, be sure to check the weather forecast because you don't want any showers before the paint dries.  
For more extended areas, you can use a sprayer. Pour the sprayable paint into the sprayer tank, stir the paint well before starting, and secure the clips.
After turning on the sprayer and stand about 20 centimeters back from the fence, gently press the trigger to start the sprayer.
Spray the fence using the same manner as you would if you were painting with a brush. The top edge is first followed by any vertical uprights and then the face of the fence.
Top tip  
Don't apply timber paint in wet conditions. And remember enough to spray on a windy day as the dye may drift to an adjacent garden.  
Continue this way until all the fence panels are completed. Leave painter dry for the time indicated on manufacturer's instructions and apply a second coat if necessary.  
Finally, remove any newspaper masking tape or any dust sheets from the area you were working in.
Before you apply wood stain, determine the state of your wood!
Look for Mold and Mildew.
Mold & mildew is the most common issue. It's often mistaken for dirt; it'll look like small, sometimes fuzzy gray or black spots that don't wash off with water.  
 A bleach test is an easy way to tell if you've got dirt or mold on your would. Hold a rag soaked with bleach on an area that looks dirty. Don't scrub it but hold it there for a few moments. If the spots are gone, you're dealing with mold or mildew when you remove the rag.
Hold a rag with bleach on dirty areas; if the marks disappear, you've got mildew. Of course, you'll want to deal with mold and mildew immediately; otherwise, it'll rot the wood surface.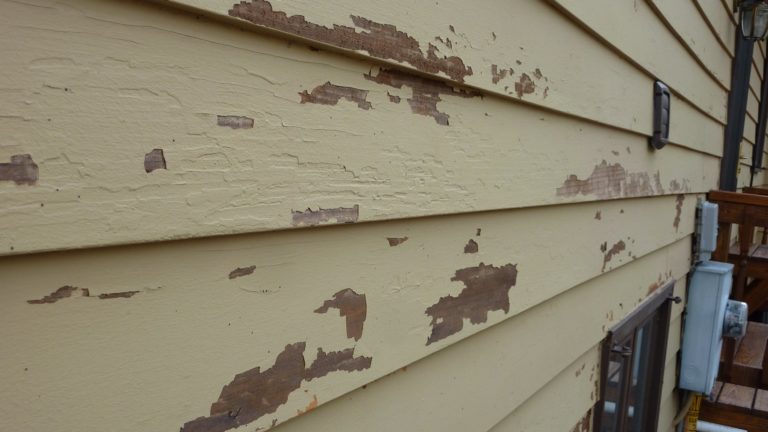 Peeling damage doesn't necessarily require a test often; you can look at your wood. The previous coats of stain or paint will be pulling away from the wood surface. You'll want to scrape and sand that off till you reach good wood. You can use a tape test to determine if you have peeling or a sound surface in less obvious cases. Install a piece of duct tape on the wood surface and press down firmly, then quickly pull it off.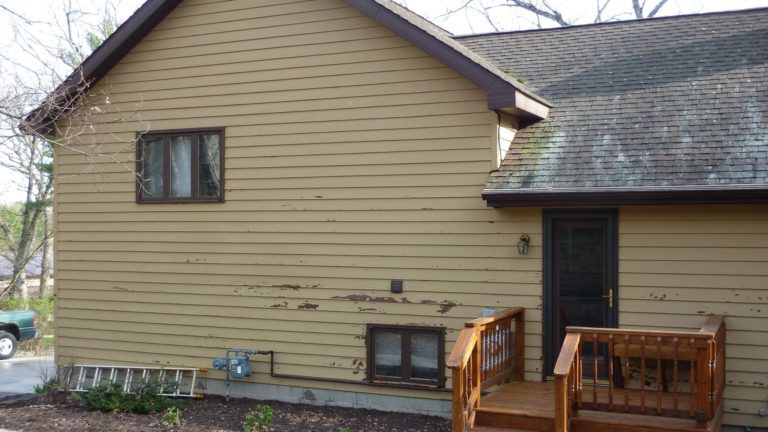 You may also encounter weather effects on your wood. UV damage will occur if the wood has been sitting uncoated or a previous coat is completely worn away. A gray or silver color will start to show on the surface of the wood, and it might also become flaky or feel soft if pressed with a fingernail. Arrange the wood back to a sound surface. If the woods are rough to the touch, then sanding may also be necessary. Finally, you may be working with new wood may still have issues despite being new.  
Pour some water on your wood and see if the water beads up. If it does, you may have mill glaze, and if the wood is treated, you should test the surface every few months. Once the water penetrates the feeling, you're suitable to stain. Sometimes you'll encounter wood that has an existing coat that has none of these problems. The coating may appear worn but not peeling. It may have some mildew but no rot. Surfaces usually only require a good cleaning and a recoat with the same type of stain or a higher opacity stain.  
Once you determine what kind of issues you're dealing with, you can get your wood cleaned up and prepped for staining.  
Signature House Painters – Washington, DC
If you are searching for professionals to paint or stain your deck & fence, then signature house painters are the most recommended in the entire DMV area, Washington. In addition to whole houses and commercial buildings, we can also paint:  
Decks
Patios
Feces
Railings
Fascia boards
Window and door trim
Garages
Gazebos
Other hardscaping structures
And more.
Call to know more about the service.