Wall Finishes And WallPaper
Wall Finishes
Interior designers stressed the need to consider rooms as a complete entity and to give priority to harmony and aesthetics as much as to practical considerations such as durability and ease of cleaning. Woodwork, for example, should be considered in conjunction with the walls and could often be painted to match, diminishing the contrast between the surfaces and thus making the room seem bigger. When contrast was chosen, mahogany was thought to stand out well against shades of grey and to combine well and less starkly with creams or peachy pinks. For contrast, green went well with walnut, while a parchment (off-white) colour or a soft warm grey blended with it more quietly. Oak harmonized with pale yellow and was thrown into relief by blue, rose or wine-red: pure yellow and orange were less good with it. 
In suburban houses in which the internal doors had not been wood-grained, it was a common practice to paint them in two colours. The frame would be painted in one colour and the panels in another. Popular pairings included red and yellow, brown and yellow and cream and green.
In the 1920s and 1930s, in the absence of standard paint shades, most professional house-painters in Britain mixed their own colours. There was a great difference in the lasting quality of good and bad (or cheap) paint at that time and house owners were of course advised never to choose the bad, which was simply a waste of the labour that applied it. When coloured paints were used, it was economical to varnish them, as this would stop them from fading. Water-based paints were also available, providing light or pastel effects. Aqualine was the trade name for ready-mixed distemper, or water paint, made by Mander Bros in the UK. Distemper was available in an enormous variety of very fine colours, which is perhaps why it remained very popular in the 1920s and 1930s. Painted floors were coming into favour in the 1930s: floor paints naturally needed to be durable. Grey and blue were popular.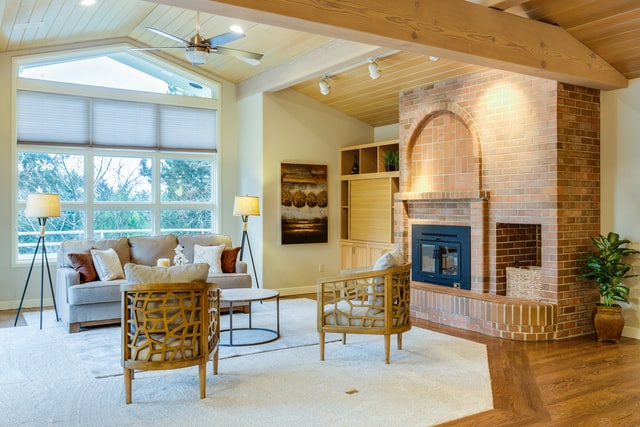 Gloss paints were suitable for bathrooms and kitchens, as they resisted steam and were easy to clean. Special paints that gave a tile-like gloss and protection to the surface were available for spaces where steam and heat prevailed. They were inexpensive and came in a range of colours. A product called Celotex, an insulating cane fibre made in the USA, could be applied to walls and ceilings specifically to protect interiors from rapid changes in temperature and to guard against rot and fungal growth. 
For dark rooms, highly glossy surfaces were appropriate, although such surfaces needed to be very even or they would pick up irritating reflections. A stout underpaper or canvas could be applied to the wall before painting to improve matters. Ceilings were best painted in light, bright colours, but not with a gloss finish. A shining gold ceiling, of course, could look superb in some settings, but was hardly cheap as the effect could not be achieved with paint. Instead it had to be leaf of aluminium, lacquered gold or plain gold. 
Stippled paint looked good, even under close examination, on a wall subject to glare. Other paint treatments that came into use in the early 1930s were combing and scumbling. Pleasing effects could be achieved by applying one colour over another. This did not work happily with distemper, which was the choice of the householder who could not afford oil-based paint, but the surface of the wet distemper could be stippled to ensure that it had no brush marks. 
Duncan Miller, who designed domestic interiors, created a daring scheme for a bedroom with black walls in his Contemporary House, shown at London's Ideal Home Exhibition in 1934. This gave a somnolent effect but, at the same time, suggested a filmstar's room for entertaining 'at home' rather than a conventional place for sleeping. It opened up boundless possibilities for contrast with white furnishings, while ceiling and coloured flower arrangements. A similarly bold scheme consisted of silver walls, matt grey paintwork and a shiny white ceiling, all set off by rich dark blue curtains lined with yellow. In the Salon des Artistes Decorateurs at the Paris International Exposition of 1937, A. Porteneuve exhibited a salon with walls of shiny black lacquer and an illuminated ceiling. The decorative elements within the room were white, black, green and natural leather. 
Wallpapers
The most popular wallpapers were in geometric or tartan patterns, featuring rectangles of different sizes, checks, cross-hatching and triangles. Flower-posy motifs and marble, cloud or wave patterns were also fashionable. Bold outlines and strong colours were favoured, especially reds, golds, browns and 'fawn' (beige) for living rooms, where they were thought to go well with furniture painted in green or of natural wood or steel. Different wallpapers were often combined in the same room-for example, a bold-patterned paper behind the bed and on the ceiling of a bedroom, softened by a plainer paper around the remaining walls. The colours in the primary paper would be picked up in the plain paper and the border, as well as in the furnishings of the room, such as the carpet, rug, bedspread, chair covers and curtains.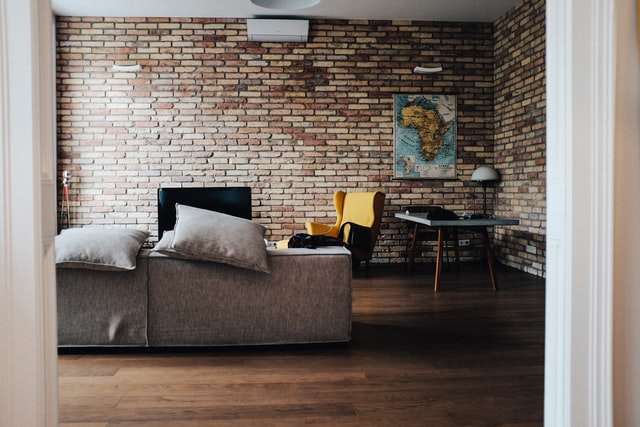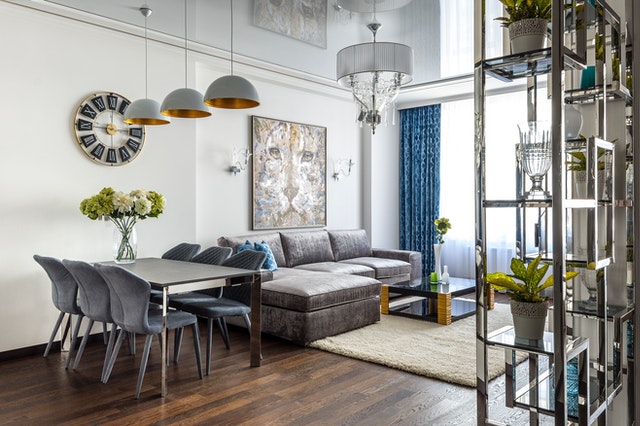 Exotic wallpapers were fashionable in the 1920s: Chinese-lacquer imitations, desert scenes, Egyptian motifs, all-over leaf and berry patterns were available, with scenes from the Mediterranean and other landscapes as friezes. Preferred colours were quite loud-bright reds, blues and greens. Papers of the 1930s came in more muted colours such as soft greys, pinks and blues, but also in the so-called 'autumn tints' of oranges, browns, reds and greens. 
Cheaper wallpapers were usually machine-printed with distemper on paper. Among the more expensive wallpapers were embossed examples with applied cut-out borders and corners, which were very popular in suburban houses in the 1930s; although at the very top end of the range homeowners thought such obvious decoration in bad taste and preferred to treat their walls with plain distemper. Besides ordinary wallpapers, various kinds of canvas and grass cloth (gold-or metallic-backed) were available. 
By the mid-1930s scenic and flock wallpapers had gone out of fashion, as had decorative paper features such as friezes, cornices, ceiling borders and papers specially printed to make rococo panels. Nothing worthwhile had come to take their place, according to the writer and designer Basil Ionides. In his book Colour in Everyday rooms (1934), he condemned contemporary wallpaper designs as 'deplorable', adding: 
The good old designs were well drawn, and, though now old-fashioned, are still good. The modern designs, with few exceptions, are imitative and frankly bad, being produced purely commercially, with no real sense of quality and with almost total absence of good drawing. 
Contrast was sought after: if the borders were elaborate, the wallpaper was probably plain, in a beige or cream colour and often embossed to give an interesting texture. There was usually a picture rail in all the downstairs rooms and there might also be a dado (or chair) rail in the hall and dining room. A relief paper, such as anaglytpa, might be hung below the dado rail, brush-grained and varnished to match the woodwork. In areas where a lot of wear could be expected, for example in halls and dining rooms, varnished papers were used. Over time, these took on a dark brown colour that smothered the original colour and pattern. 
In the California bungalow and Spanish Mission houses of Australia, wallpapers were similar to those used in Britain. Homeowners happily papered their houses with lively 'Jazz Modern' wallpapers. British manufacturers thus retained a firm grip on Australia's wallpaper market. The most popular option was to combine a plain or textured filling paper in a neutral colour such as stone or cream with a brightly coloured cut-out border in a geometric design. In the 1930s, again following the British trend, householders chose more subdued colours, including the famous 'autumn tints' of reds, greens, yellows and browns, for wallpapers as well as carpets and furnishing textiles. Robin Boyd noted in Australia's Home (1952) that a typical home of the 1930s would have Jazz Modern wallpaper borders along with a cocktail cabinet of Queensland walnut, massive armchairs upholstered in Genoese velvet and a fitted Wilton carpet in a heavily patterned Modernist design.