This extract has been taken from "Better Homes and Gardens Baths Your Guide To Planning And Re-modelling Received Feb 27 1997 Castro Valley Better Homes and Gardens, Books Des Moines, Iowa". To get assorted home ideas, best resort is to contact "Painters Washington DC" as it furnishes you with brilliant ideas matching your life-style.
Make Your Bath Kid-friendly
Protect your child against potential dangers in the bathroom by heeding the safety precautions on page 42 and taking these extra steps:
1. Keep washcloths and toys at tub-side so you won't be tempted to leave your child unattended in the bath.
2. A cushion around the tub spout, as well as edge and corner cushions on cabinets, can help prevent cuts and bruises.
3. Install childproof locks on all cabinets. Even the toilet lid should have a latch.
4. Use only non-breakable drinking tumblers in a bathroom. Store them where kids can reach them without making a precarious climb.
5. Add slip-resistant strips in front of the sink and tub. Anchor area rugs with nonslip pads or double-faced carpet tape.
6. Block all electrical outlets with safety covers or plugs. The outlets, as in all baths, should be GFCI outlets.
7. Make sure grab bars inside the bathtub and shower stall are low enough for children to use.
8. Choose faucets and handles that are easy to use and have rounded edges. Also, cover the tap with an inflated plastic or sponge case.
9. Locate towel bars or rings 6 inches or less from entrances to a tub or shower so children don't have to reach too far for them.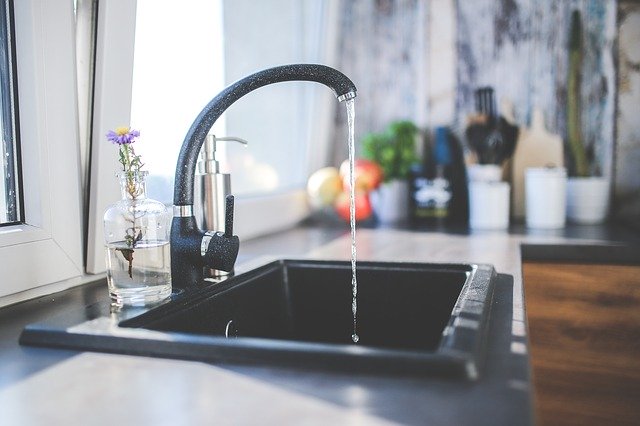 Develop a Color Scheme
Creating a good color palette for your bathroom can be a challenge, but there's nothing forbidding or mysterious about it. The following general guidelines will help.
1. For the sake of continuity, carry your home's overall personality into the bath.
2. Link the bath with adjoining rooms by matching color values (that is, the colors' darkness or lightness) as well as actual hues. For example, if the trim in the hall outside the bath is painted a high-gloss creamy white, consider using that color somewhere in the bath.
3. Most successful color schemes use a minimum of there and a maximum of six colors. Tree-color schemes consist of a main color (the prevalent color used on most surfaces), a secondary color (after used on cabinets, trim, and/or some wall or ceiling surfaces), and an accent color (the least-used color to provide interest, variety, and balance). The accent is often the brightest or darkest color in a scheme; use it in at least three places (or on one major design element) to establish a definite presence.
4. Give thought to the color of every component: Walls, ceiling, window and door trim, wainscoting or chair rail (if any), floor, furniture, counters, fixtures, curtains, accessories.
5. When determining your color placement, decide what you want the main focus of the room to be. Consider that the eye is attracted first to the lightest color. If the walls aren't the main focus, they should not be painted the lightest color.
6. White (including ivory and cream) fixtures are not only less expensive, but they also are easier to clean than dark fixtures.
7. White comes in many tones, and choosing from among them can be tough. Decide if you want a cool white or a warm white, then choose one specific hue. Match all the white or off-white elements so various tones won't be competing with each other.
8. If you use the bathroom for applying makeup, choose lighter versions of the colors of the clothes that look good on you. The lighter colors reflect flattering light, allowing you to get your makeup colors correct.
9. Countertop colors that keep their good looks are lighter mid-tones, grays, and beiges. Dark colors have poor reflective qualities, solids tend to show marks, and white shows stains.
10. White cabinets can make a small bath seem larger. Dark cabinets have the opposite effect. Use dark cabinets only in a well-lit room.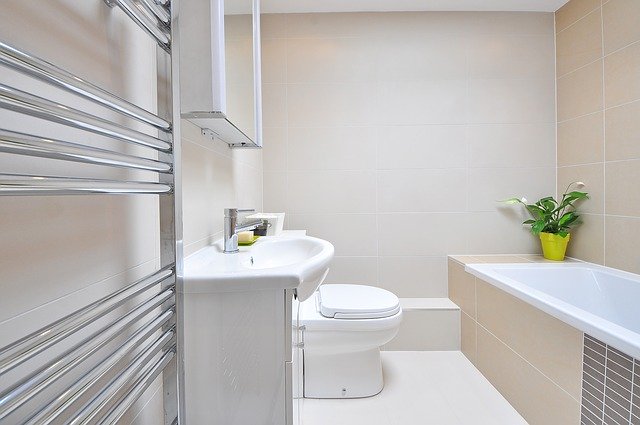 Make a Small Bath Feel Big
You don't have to add square footage to an existing bathroom to make the space work better and seem larger. Just keep the following ideas and areas of improvement in mind. Some fall into the facelift category; others require more extensive re-modelling strategies.
1. Light. Install adequate lighting to eliminate shadowy corners. Create an illusion of height by focusing low-wattage indirect lighting on the ceiling.
2. Downsize. Trade large fixtures for smaller ones. Switch a tub for a corner shower or a bulky vanity for a sleek pedestal sink.
3. Design. Use no more than two dominant horizontal lines. The top of wainscoting, for instance, establishes one line. Aligning tops of doors, windows, mirrors, and tub/shower enclosures establishes the second line.
4. Minimize. Don't mix a lot of materials: Stick with one, such as tile for floors, walls, and countertops. Get rid of any clutter. Keep wallpaper patterns light and small in scale. Stay away from frilly curtains and furry mats.
5. Reflect. Use large mirrors to make walls look like windows.
Resurface the Bathtub
Pedestrian as it may seem, resurfacing an old tub can go a long way toward brightening a tired bathroom. A new coat of epoxy paint can cover up an unsightly color or chipped finish without the mess and expense of replacing the whole fixture. It's a job for professionals but can be done without moving the tub. The procedure takes four to six hours, then the new finish should cure for a few days before the tub is used. It costs between $250 and $400 to repair, refinish, and polish an old tub; a sink can be refinished for about $175. For $5 to $8 per square foot, the same procedure will put a new, gleaming surface on old ceramic tiles.
Continue reading on Cabinets and counters