This article has been extracted from "Remodeling on the money 15 Innovative projects Designed to add value to your home " by "Alan J. Heavens". Cabinets and counters are the most essential part of any kitchen. Painters Washington DC, educates you on modern & stylish form of such which will make your kitchen look beautiful.
If there haven't been enough options so far- flooring choices it is time to tackle the largest kitchen remodeling expenses: cabinets and countertops . Cabinets typically account for 30 to 40 percent of the cost of both new and remodeled kitchens, and despite the outlay, kitchen designers insist that no matter what style of cabinet homeowners choose, most end up being dissatisfied with the choice.
Cabinet price is determined by construction and materials. Consider the cabinet just a box. As a box, it isn't that expensive to make, but then you have to consider what the box is made of; how the box is made; how big the box is; what kind of door closes the box; what kind of trim, finish, and hardware the box and its door have; the composition and construction of the drawers that fit into the box; and the cost of installation of the box so it works properly, or at least opens and closes.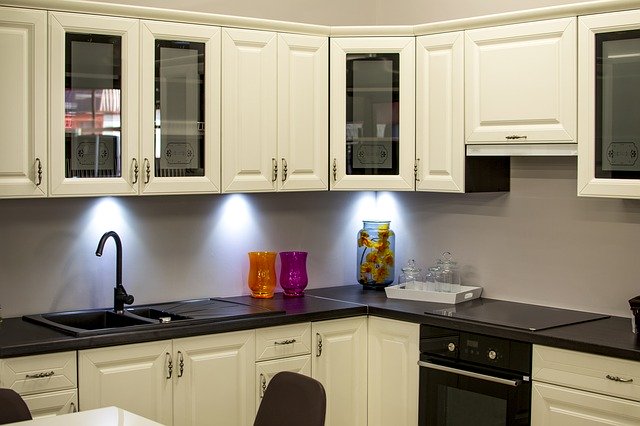 Building industry experts have estimated that, in a new house with a median price of $250,000, 30 linear feet of cabinets costs about $ 5,500. Unfinished wood cabinets cost about$ 85 a linear foot, while standard wood finished cabinets are in the $ 150 to $ 200 range- both uninstalled. As American's need for storage has increased, so have cabinet sizes.
Standard cabinets are 30 inches, but you can get more storage space in ones that are 36 inches or 42 inches high. Typically, if 30- inch cabinets for a kitchen job cost $ 5,500, increasing the size to 42 inches probably will add $ 800 to the price.
Oak, maple, and cherry are traditional materials that survive trends. Today's most popular styles for the built- in kitchen are light woods, both in raised- panel and singles- slab doors. One of the benefits of light woods is that you can change the style quite easily from more traditional to modern simply by changing the handle and knob options and external accessories. Light woods work well with a wide range of appliances, from classic color choices to stainless steel, which remains a big trend in appliance finishes. Glass doors were popular in the 1990s, until homeowners realized the glass door allowed visitors to see the clutter better. White kitchen cabinets seem to go in and out of style every year. Cabinet hardware has become an expression of the homeowners' personality. Every- knob and drawer pull is a little different, with one a spoon, another a knife, and a third a fork. And there are an increasing number of mom – and- pop manufacturers springing up to produce individualized hardware.
With new cabinets so expensive , there are alternatives. One is re-facing, which uses veneer to cover the exposed faces of frames, and new ply wood or door panels to cover and panels. New doors, drawer fronts, and moldings are added, as well as new hardware. The cost of re-facing tends to be all over the map, depending on the job. Though some consumers complain that can cost as much as buying new cabinets, it is difficult to understand why because you already have the boxes. As with any project, the price for a cabinet re-facing will be determined, in part, by the quality of materials selected.
Another is painting the cabinet doors, and that is the route that Ellen Shim-berg took when she decided to spruce up her kitchen. The decision on color took a while because visitors were asked their opinions of some color choices Ellen had dabbed on the cabinets.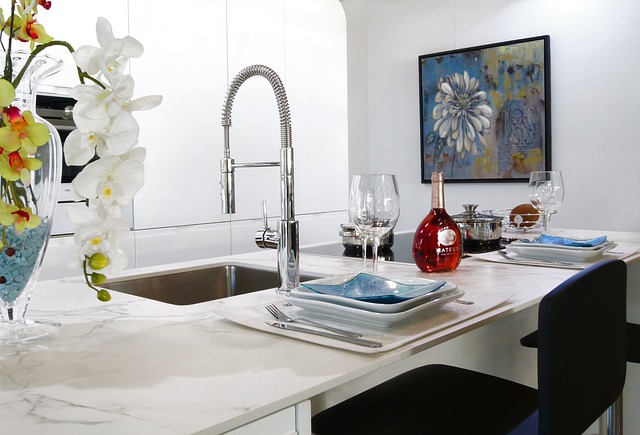 The numerous decisions involved in choosing cabinets are matched by the number of kitchen countertop options. Once there was just Formica for the masses and granite or marble for the well- to –do, but now there are too many to keep track of and more arriving at the home center every day.
Fast Facts on painting cabinets
Remove the doors from the cabinets, then remove all the hardware.
Wipe all surfaces with a clean rag saturated with mineral spirits (paint thinner) to remove surface contamination. You may have to do this two or more times because older cabinets typically have a heavy buildup of dirt, grease, or grime and wax. Change the rags frequently to avoid depositing dirt and grease back on the cabinets.
Wash the surface with equal parts household ammonia and water. Rinse well with clean water. Allow the surface to dry completely.
Prime the surface with a shellac- based primer- sealer. Let it dry for about an hour.
The finish coats should be an oil- based paint- alkyd enamel- for a harder, more stain- resistant, washable, and durable finish. Two coats should be enough, but the number of coats depends on the kind of look you want.
Depending on the temperature and the humidity when you are working, each coat may take two or more days to dry. Make sure each coat dries completely and is not tacky to the touch.
Sand the surface with a fine- grit sand- paper to make the coat of paint even and blotch free.
Use a tack cloth to remove all the sanding dust from the surface, and apply the next coat.
It can take a couple of days for a coat to cure, and the time elapsing between coats can make the job last a week. For a better finish make sure you sand between coats.
Continue reading on Carpeting