This article is a excerpt form the book called "Painting Your House, Inside And Out, Thunder Bay, San Diego, California". Choosing paint is in the hands of the contractors and depends on the budget of the project. Homewoners should involve in the decision because choosing a low quality paint will disappoint quickly.
Whether you choose to paint or stain, buy high-quality materials. Low-cost paint that yields poor coverage can end in disaster.
Its better to start with good materials. You will need to determine the sheen best suited for each of the surfaces to be painted (high gloss, semigloss, flat, etc.). Every paint brand has its own terms for these sheen. Gloss or sheen is the degree to which a painted surface reflects light. High gloss, semigloss, satin finish, eggshell, low luster, and matte (or flat) finish are typical names for a manufacture's glosses.
High gloss looks wet and shiny.
Semigloss is shiny and smooth but not wet looking. It is the most common sheen used for trim.
Eggshell, satin, and low luster fall in the middle between flat and high gloss.
Matte or flat finish looks like un-glazed tile or chalk.
Choosing the level of gloss is an aesthetic decision. Be aware, however, that high gloss shows imperfections more than any other sheen and, therefore, requires more careful preparation. Time and weather reduce the gloss level.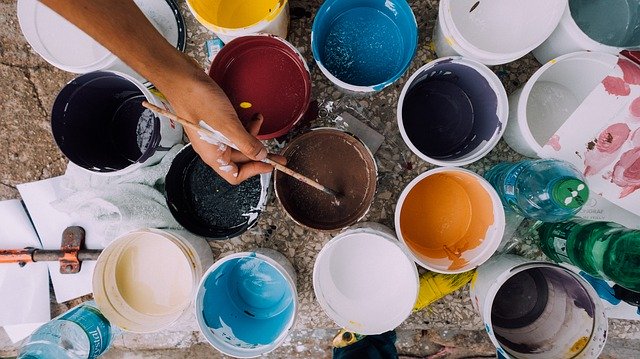 You must further choose among the following three types of paint:
oil-based paint, in which the vehicle or binder is a drying oil, such as lin-linseed or soy
latex paint, in which the vehicle is a water-based emulsion
solvent products, including varnishes and specialty finishes
All Paint products go from a liquid state through various stages of drying to a full cure. Many oil-based paints must be dry for six, eight, or up to twenty-four hours before recoating. Latex requires between one and three hours.
paint and Stain Options
| | |
| --- | --- |
| Latex | The main advantages of latex are low odor, easy cleanup, short drying time, superior build, and low sensitivity to alkali in the surface, which is important when painting over cement or plaster. |
| oil | Although oil-based paints take longer to dry, they dry harder than latex, hold much better, are impermeable, and are more resistant to abrasion. |
| alkyd-modified latex | These latex house paints contain modified alkyd resins and offer the best of both worlds-latex and oil. |
| Stain | Stains contain the same basic ingredients as paint and are applied in the same way. They are also available in latex and oil-based versions. Whereas paint is solid and opaque, stain penetrates the surface to reveal the natural color and texture of wood. Natural stains make the least change in the color of the wood because they have the least pigment. When using stain, there is no need to smooth or prime the surface wood. Stain doesn't last as long as paint because it has less build. |
| Semitransparent stain | These stains have more pigment than natural stains but allow some natural color to show through. |
| Opaque stain | these stains have enough pigment to make solid colors but allow more natural texture of the surface to show than paint does. They also produce the lowest sheen available. |
| Porch and deck paint | Surfaces subject to extra-heavy wear(including thresholds) should be painted with a product specifically formulated to resist abrasion and foot traffic. These paints are available in latex and oil-based formulations. |
(Note: Redwood and cedar contain water-soluble substances that can stain through latex paints they must be sealed with an oil-based product before they can be painted with latex)
Signature House Painters in Washington DC can handle your painting project and always choose the best quality paints for the project. For us it is always quality over quantity.
Continue reading about "Painting Preparation"